9th August 2017.
Momentous day for the project. Using the NVR's 40-ton Steam Crane, 73050's 19-ton boiler was lifted from the frames and, after the ashpan-removing ceremony was complete, positioned carefully on sleepers in the yard triangle. Here, the external rust can be needle-gunned and shot-blasted away and the internals can be stripped out ready for insurance inspection.
The lift was video'd by team member John Wood and can be seen at https://youtu.be/nv8EVBlKMT0
The chassis has been returned to the workshop where work will continue to strip components for overhaul. The long term goal here is to remove the chassis from the wheels and to open up the cylinders and piston valves for inspection. The tyres require reprofiling and so the wheelsets will need to go 'away' for that operation; before that is done, the roller bearings will need inspection - if there's major work or replacements needed here, then it will involve removing the wheels from the axles and that might render any profiling invalid.
Under the crane crew's watchful eyes, the boiler takes to the air and is about to be slewed to the far side of the crane, which will be home for the next few months.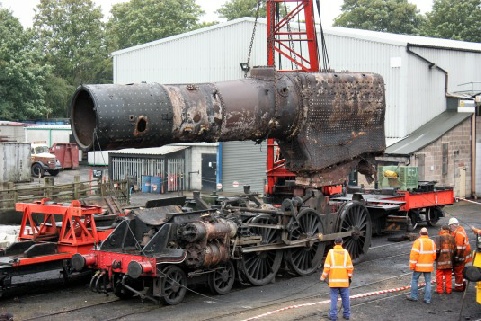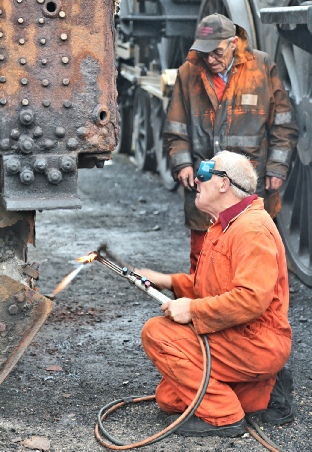 Alan Whenman does the honours with the oxy-acetylene to detach the ashpan. David O'Connell looks on with interest - he's making the replacement.
Photo © Kevin Wilkins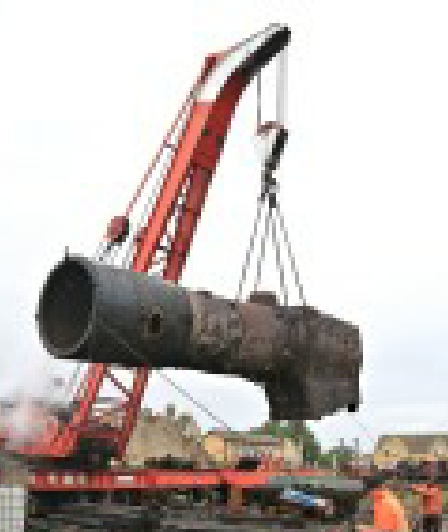 Pete Neumann and Paul Reeson on the taglines rotate the boiler into final alignment.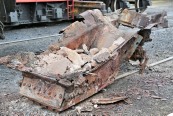 What a mess! One ex-ashpan, complete with ex-brick arch.
Photo © Kevin Wilkins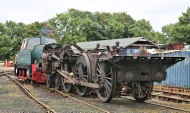 Chassis is shunted back toward the workshop. The loss of 19 tons meant that the rear wheels were extremely light and it took three attempts to get round the curve without the outside flange hopping over the railhead.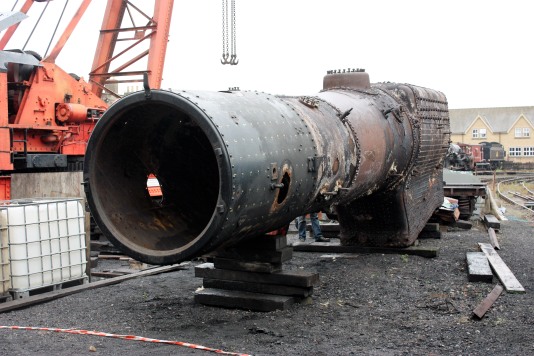 The boiler has landed. The crane's been straightened up and (almost) everyone's gone for tea.