May 2018.
With the wheels out of the frames it has been possible to take a good look at the condition of the horns, axles boxes and bogie bearing surfaces. And for the first time we can see the state of the areas of the frames that were hidden behind the wheels.
Mostly the condition is good but of course we need to fight through 10 years of running grime before we can see the underlying paint or metal.
Parts removed count:
1289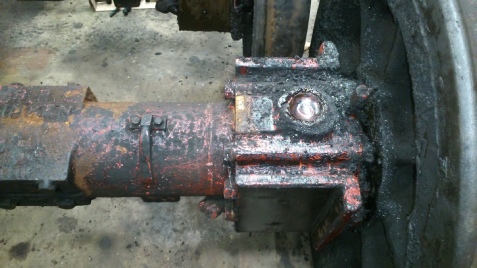 One of the bogie wheelsets, covered in grime except where the spring has been resting on the top o fthe cannon box.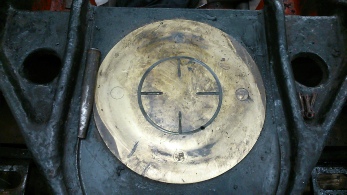 Left and right rubbing plates. Both worn and will be replaced. Notice that the RH plate is much more worn that the LH one, where all of the cross grooves for lubrication can still be seen.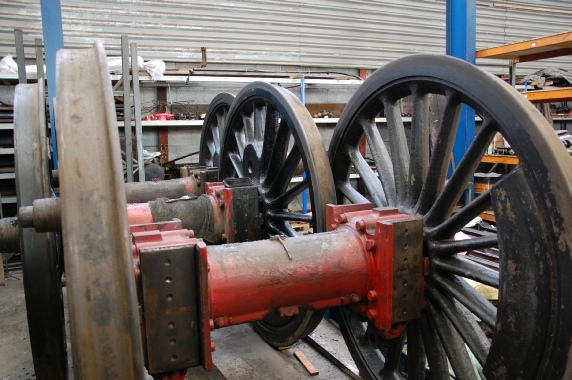 With the first layer of grease and filth removed, the wheels are beginning to look half-presentable. At top left, the worn tread is clearly visible.
The red cannon boxes are one-piece castings through which the axle runs, supported on roller bearings. Because they're one-piece, they cannot be removed except by taking a wheel off an axle. Professional assessment will be done to determine whether that's going to be needed.
In any event, the boxes have to have the 10-year-old grease contents replaced.
The metal faces of the horn slides can be seen. Those from the rear axle were is a particularly bad state, where the had been some sort of lubrication failure and the manganese-steel was extremely badly pitted.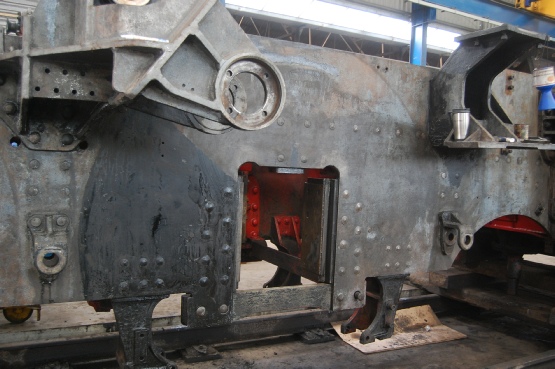 First sight behind the wheels on the RH frames. The shadow of the (leading) driver can be clearly seen - this area has not yet had paint stripped and there is a faint mark where the wheel rim has been rubbing on the frame. At the trailing wheel, this is is much more noticeable - the BR Standard 5's were notorious for 'waggling' the back-end.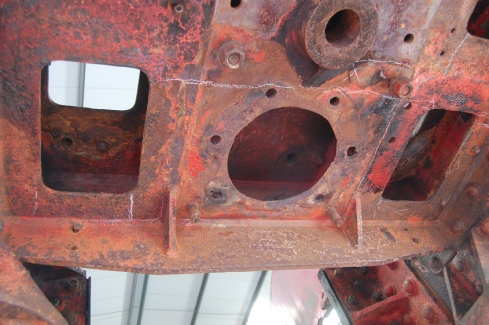 Looking up underneath the drag box. The circle is the seating for the steam brake cylinder, which hangs downwards. The steel is badly corroded and is less that half the design thickness so we will cut out the wasted section and weld in another. A difficult job, welding upside down.